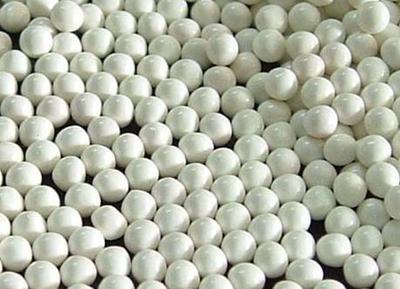 Zirconium Silicate Composite Grinding Media
PV:312
Category:silicate beads

SPEC:Φ0.4-5mm 《Ultrafine grinding)

Packaging:Bag Package/Small Bag Package
Details of stocks information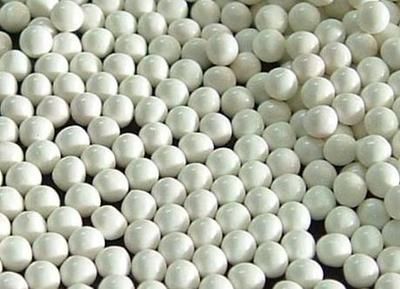 Applications:
Zirconium Silicate Composite Grinding media are produced from high purity and ultra-fine zircon powder. They have homogenous microstructure and no hollow. Exhibit high strength and excellent cost effective performance compared against fused zirconium silicate bead and others. The qualities and properties reach the international advanced level. They are specifically suitable for ultrafine grinding metal and no-metal ore such as gold,silver,nickel,zinc and lead; GCC,zirconium silicate and titanium dioxide; pigment,inks,paint and coating materials.
Type

Density (g/cm3)

Bulk density (g/cm3)

Major composition (%)

Crush strength (N)

V-Hardness (HV10)

Color

SXZS

≥4.0

≥2.4

ZrO2:65

SiO2:35

≥1000

(Φ2mm)

≥900

White

SXMX-1

≥4.0

≥2.4

Al2O3: 60 ZrO2:30 Other:8

≥1100

(Φ2mm)

≥1000

Light Yellow

SXMX-2

≥3.2

≥1.9

Al2O3: 25 ZrO2:25 Other:45

≥900

(Φ2mm)

≥900

White
Properties:
*B series:Φ0.4-5mm (Ultrafine grinding)
L series: Φ5mm, Φ6mm, Φ8mm, Φ10mm, Φ15mm (Coarse grinding)
Allowable requests for different sizes.
Product Features:
1.No air pockets and no break under high speed impact.
2.Smooth surface, good sphericity.
3.High crush strength and wear resistance
4.Longer service life,2times than fused zirconium silicate beads.
Package:
25kg/plastic pail ,1MT/bag